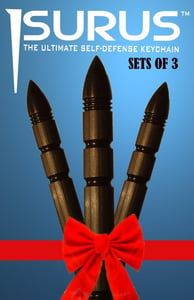 $

32.00 - On Sale
SAVE MONEY BY BUYING MORE THAN JUST ONE !!!!
A self-protection keychain of the highest caliber. Easily concealable, lightweight and extremely durable, it fashions itself well - not only a highly practical protection tool - but also as a handsome keychain.
The Isurus™ Self-Defense Keychains were designed after the Mako Shark (Genus name: "Isurus"). The keychain measures just at 5 inches long and has a diameter of 0.5 inches. Made of machined aluminum and designed specifically for defense by self-protection specialist, Michael Joyce.
Available in standard Black or Pink.
Visit GTSworkshops.info for the Free Downloadable Manual.
Disclaimer: The Isurus™ Keychains are to be used for self-defense only!